The fifth edition of the All That Jazz Art Festival has arrived, organized by the Tourist Board of Malinska – Dubašnica and the Termen Association from Malinska. This year, the festival continues with its international character, showcasing various forms of art.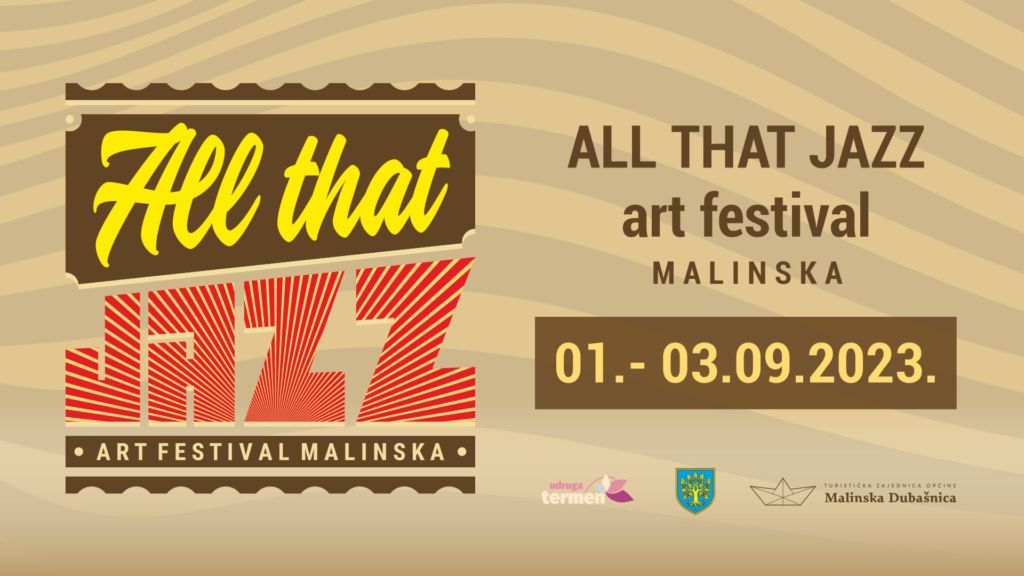 September 1, 2022 – 8:30 PM Dubašljanska Heritage House
DINO IVELJA QUARTET
The Quartet has held numerous concerts both independently and at various festivals. One of the most significant highlights is the album promotion at Trsat Castle, as well as their performance at the 30th anniversary of Jazz Time, the longest-running jazz festival in Croatia. In honor of the 30th anniversary of Jazz Time Rijeka, an album was released featuring compositions by Dino Ivelja's Quartet, consisting of Dino Ivelja (bass guitar), Zvonimir Radišić (guitar), Luka Vrbanec (saxophone), and Leonard Berisha (drums). The quartet approaches jazz with a modern, highly energetic style, performing compositions from their debut album released in June 2021, titled "Šilo Meka Jazza."
September 2, 2023 – 8:30 PM Dubašljanska Heritage House
DRUMBOOTY
Drumbooty is the latest project by the most sought-after drummer in the Balkans, Peđa Milutinović. This five-member band is characterized by an energetic and melodic fusion of jazz, electronica, hip-hop, and afrobeat that is impossible to ignore. The band was formed in 2020 after the release of Milutinović's debut album "Veritas Vincit" for Orenda Records from Los Angeles, which featured world-renowned stars like David Binney, Ron Warburg, and Pere Krstajić. Alongside Milutinović on drums, the band includes saxophonist Luka Ignjatović, a professor at the Music Academy in Belgrade, Stevan Milijanović, and Bojan Cvetković on keyboards, whose diverse styles blend into a perfect alchemy on stage, and Akos Forgac on bass guitar, completing the groove with the modern approach he brings from Berkeley and the New York jazz scene.
September 2, 2023, 6:00 PM – 7:30 PM, Malinska, waterfront
JAZZ ON PADDLES – HORNET TRIO
An Italian trio from Trieste will play well-known jazz standards, funk, and New Orleans improvisations. The Hornet Trio consists of Simone Lanzi on double bass, Giuliato Tull on saxophone, and Paolo Bernetti on trumpet.
September 3, 2023, 8:30 PM Dubašljanska Heritage House
ZMAJ ORKO STAR
Zoran Majstorović, Borko Rupena, and Toni Starešinić, some of the most prolific multi-instrumentalists in the Croatian music scene, join forces to create the sound of new European improvised music. They achieve this by combining various string instruments, percussion, electronic instruments, and effects. As the Zmaj Orko Star trio, they embark on their digital musical odyssey across the planet Earth in the 21st century. The band's name is a clever combination of the members' names. Zoran Majstorović contributes with electric guitar, udu, baglama, kora, and various effects on the album. Toni Starešinić's involvement spans as a keyboardist, composer, producer, and arranger, while Borko Rupena is responsible for the drums. Regarding their music, they state: "Creative improvised music is an intrinsic part of European musical heritage, as improvisation as a concept has been used in European music for centuries and differs significantly from American free jazz. Along these lines, we aim to build the sound of new European improvised music by combining different acoustic string and percussion instruments with electronic instruments and electronics."
Video mapping of the Dubašljanska Heritage House during the festival will be carried out by Rijeka artist Damjan Šporčić under the artistic name Oblik3. Therefore, we invite everyone to come to the House of Dubašljanska Heritage in Bogovići – an oasis of art in the Malinska-Dubašnica municipality. For those who are not familiar, the House is located across from the parish church of St. Apollinaris.
Admission to all events is free.