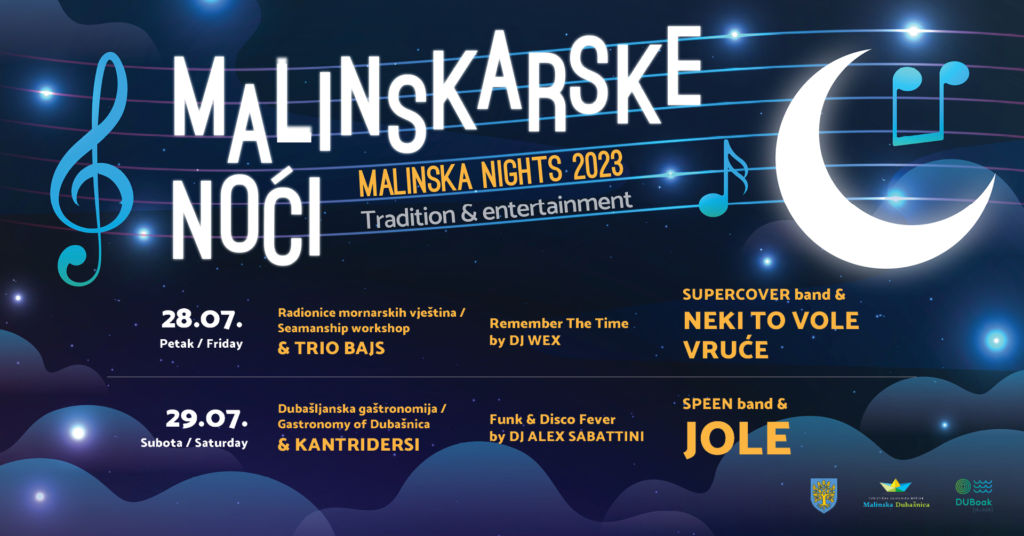 A traditional two-day event that combines tradition, local cuisine, and entertainment into the biggest summer event!
Three thematic locations with three different programs over two days and eight different musical performers will bring the past and past customs to life, offering an unforgettable experience for all senses. On Friday, July 28th, "Neki to vole vruće" band will perform with their timeless hits, while on Saturday, July 29th, Jole will take the stage!
PROGRAM:
Malinska Nights 2023
Friday, 28.07.
Maritime Heritage Interpretation Centre – DUBoak
19:30  – Radionice mornarskih vještina/ Seamanship workshop  & TRIO BAJS
Trg / Square
21:00 – Remember The Time by DJ WEX
Jaz (centar) / Jaz (center)
21:00 – SUPERCOVER band & NEKI TO VOLE VRUĆE
Saturday, 29.07.
Maritime Heritage Interpretation Centre – DUBoak
19:30 –  Gastronomy of Dubašnica & KANTRIDERSI
Square
20:00 –  Funk & Disco Fever by DJ ALEX SABATTINI
Jaz (center)
21:00 – SPEEN band & JOLE