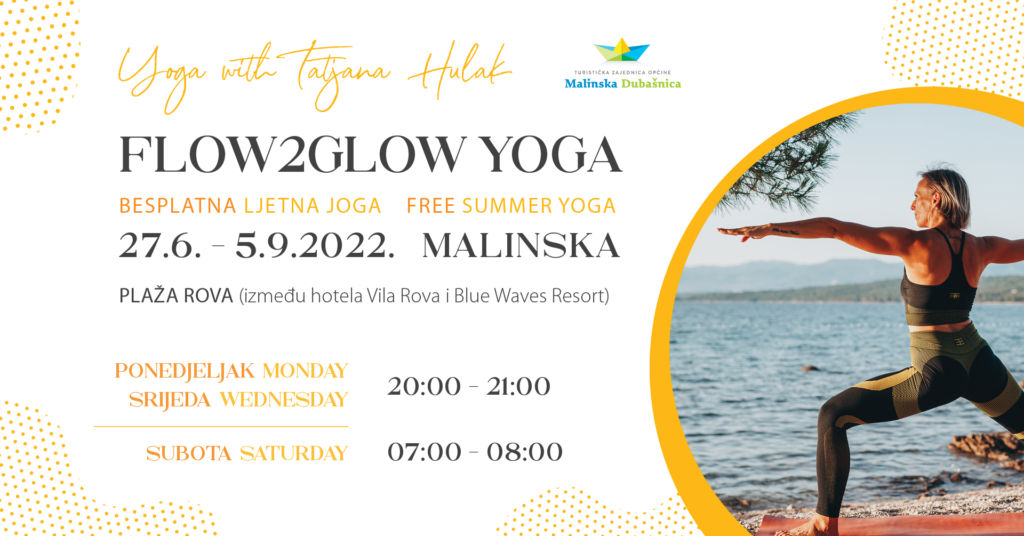 Yoga brings harmony in all spheres of life, and its influence is known in the prevention of disease, health promotion and solving many disorders caused by modern lifestyles.
This summer, relax your mind and body and join us in free summer outdoor yoga, which, in cooperation with Flow2Glow, is presented to you by the Malinska-Dubašnica Tourist Board.
Under the guidance of licensed yoga teacher Tatjana Hulak, in the pleasant sea air, bring your body, mind and spirit into balance and harmony with light stretching exercises and breathing techniques.
Yoga trainings are intended and adapted to everyone, regardless of age or physical condition, and all you need is a mat and comfortable clothes.
Place and Dates:
27.6. – 5.9.2022.
Monday and Wednesday  20 – 21 h
Saturday 7 – 8 h
Rova Beach (between Hotel Vila Rova and Blue Waves Resort)